Welcome to


The Stavik Lighthouse
Värmland Sweden

Also known as:
Staviken light, Staviks light, Staviks fyr, Stavikens fyr.

Some history and background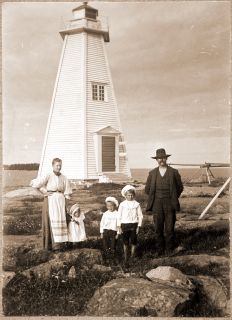 Vänerns Seglationsstyrelse, (VSS) built the Stavik lighthouse station in 1860. (The board for navigation on the Lake Vänern).
VSS has been in operation from 1799 until 2004 when the Swedish Maritime Administration took over.
In Lake Vänern there are approx. 100 lighthouses. Some "big", other are just small lights.
Stavik is one out of four covered wooden towers in Vänern, the others are Hjortens Udde, Skoghall and Smörhättan.
All white, hexagonal and with wood panelling except Hjorten that since 1905 are covered with white painted zinc plates.
At Vättern and in the Gulf of Bothnia there are also some other "sisters or cousins" wooden towers.
Above photo from 1905. In the middle, "last" and third lighthouse keeper, Anna-Lenas grandfather Harry at age 5.
Harry is surrounded by his brothers and second lighthouse keeper, his father and mother, Johan and Lizette Eriksson.
The first lighthouse keeper at Stavik was Erik Johannesson. He was Anna-Lenas mother's father's father's father. Our kids are consequently sixth generation at the spot.
Anna-Lenas grandfather Harry was born 1900 and died 1980. He and grandmother Sonja were the latest permanent lighthouse keepers and were living in the house until 1973. The lighthouse was electrified in the early fifties; it's on the mainland so it was 220 volts and AGA gas back up. In 1998 it became a 12 V system loaded from 220 volts and with a battery back up function.
From 1973 and to 2003 we have as a family rented the place as summer cottage.
In 2003 we, the Quist family, bought the whole peninsula including the cottage and the lighthouse.
During the summer 2003 we completely rebuilt the lighthouse. See Renovation.
The lighthouse is in operation and the top floor, lantern, is rented out to the Swedish Maritime Administration.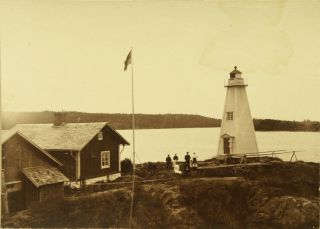 You can compare with today photo under, Pictures; only difference is the position of the flagpole and a birch in front of the outhouse.
More info at >> Facts
If you have any questions or want to see more photos please let me know.
Lighthouse facts in short, .pdf