Welcome to
The Stavik Lighthouse
Värmland Sweden
Now, the new Pier House is finally ready!

See facts Pier House

.

If interested,

the Lighthouse,
Krikonstugan and

the Pier House can be rented.
For the cottage we have some renovation
plans during the fall and until summer 2012,

why the cottage can not be rented.

Winter/spring 2012

During the winter, you can sleep in the lighthouse,

1-5 persons, and "live" in the Pier House.

During the renovation of the cabin

there are also 2 beds in the Pier House.

Work on site will or can take place on and off

Summer 2012

From 18/6 to 19/8
the place will be busy with restoration and painting!

The cabin to be finalized and outdoor painted

and some of the light house sides also to be painted!

Do you want to help with work/painting?

Accommodation can be arranged

provided that timing fits other visits and needs!

If you have any questions,
please send a mail to Gunno.

Info regarding the place
Beds for up to 12 persons in

three buildings incl. the lighthouse.
Located at Lake Vänern, Western Europe's biggest lake.

On the mainland with car road all the way
and close to the lake on three sides.



Kitchen, shower, toilet and sauna in the new Pier House.

Flat rock or pier bathing, seclusion.
One or two families or a group, or just you and?

Small boat and a canoe.
More info, see the other pages here, specially Facts.

Background

Stavik lighthouse station is more or

less in original condition from 1860.

We have restored the outside

of all buildings and the fireplaces, see Renovation.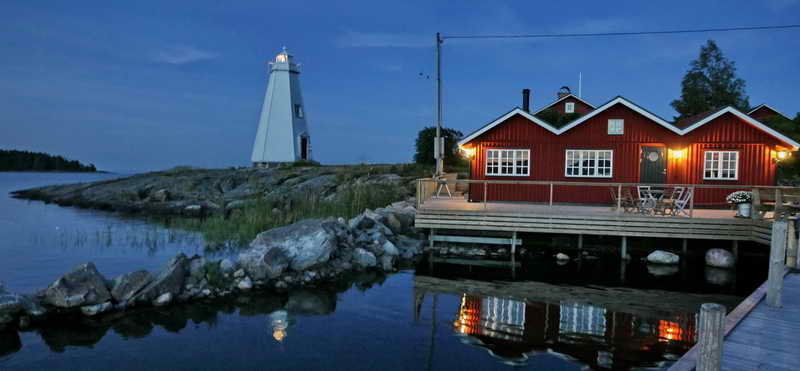 Conditions
The main type of intended rental is weekly rental
of the whole lighthouse station, own linen etc.
Other conditions, as shorter time,
only the lighthouse in combination with
the pier house etc. can at be possible.
Make a request for your needs and we see how it fits!
Rent a lighthouse?
Interested?
Send a mail to contact Gunno or use phone.

Best regards from family Quist
Karlstad Varmland Sweden